Just received some horrible news, Face Off is going to be canceled. We are extremely upset about this. If you love Face Off, please go to this link and sign the petition. Keep it trending.
https://www.change.org/p/feedback-syfy-com-help-bring-back-face-off-on-syfy
About ten years ago when my daughter was little, she was afraid of monster movies. Then I came across a show on
SYFY
called "Face Off". It's a "...competition/elimination series, special effects makeup artists participate in elaborate challenges for a grand prize and the honor of being Hollywood's next great effects artist." (syfy.com/faceoff)
(TVSeriesFinale.com)
I decided we should watch this show together in hopes to show my daughter the movie monsters are just a man in mask, and I was hoping she would love these films like I do. This has worked, plus I've also grown more of an appreciation for the movies after learning the hard work that goes into them. My daughter now not only loves the movies, but she it began her love of art.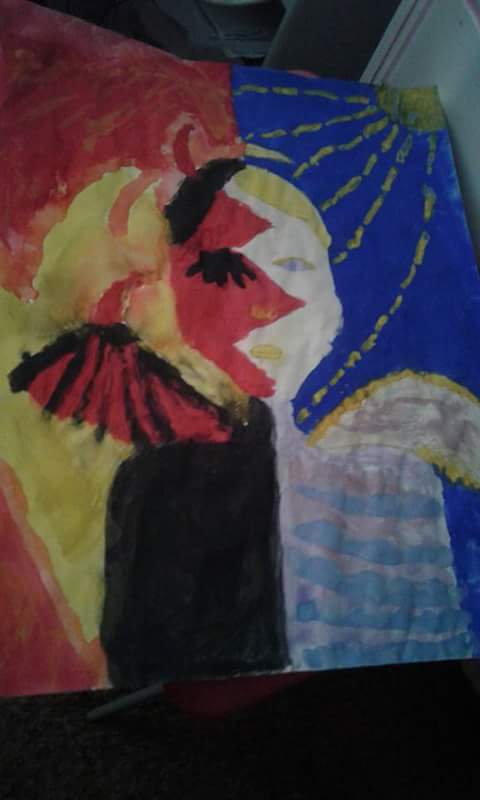 (Chloe's "Internal Struggle" self portrait)
McKenzie Westmore is the host. She's kinda cool. Her father, Michael Westmore, has an amazing career in the makeup effects industry and is mostly popular for his work on "Star Trek". He is now the contestants' mentor.
(SciFiAndTVTalk)
(SyFy Wire)
Ve Neill is "One of the most renowned makeup artists in the motion picture business today." (syfy.com/faceoff) She has worked on movies like "Beetlejuice", "Edward Scissorhands", "Mrs Doubtfire", "Lost Boys", "Star Trek" and many others.
(NY Times)
Neville Page has done the makeup effects for many movies such as "The Lion, the Witch, and the Wardrobe" "Star Trek", and "Tron". "Neville is currently involved as a design consultant for the entertainment, toy, and automotive industries; and is developing his own line of educational art products."
(syfy.com/faceoff)
(Memory Alpha)
Glenn Hetrick "found his first foothold in Hollywood at Optic Nerve Studios as a designer, fabricator, sculptor and painter on several seasons of Buffy, Angel, X-Files, Freaky Links, Babylon 5 and Roswell, among others." (syfy.com/faceoff)
(Inked)
Glenn and Neville are currently working together on projects like "Star Trek Discovery". (CBS News Video) They also have a video on YouTube that's worth checking out. It was awesome watching them work. (YouTube video) Turns out, I was a fan of Ve, Glenn, and Neville's long before I even heard of them on "Face Off".
(Pennsylvania Bridges)
"Face Off" is an amazing show. If you haven't seen it, what the f---'s wrong with you? My daughter and I just went back and watched all 12 seasons. It was on our cable's On Demand. Sadly, they won't return with new shows until next year. I know, I'm bummed. They need to hurry up already. Check out
SyFy
for reruns.
(Dread Central)
@NevillePage