Once again I'm stepping away from the sci-fi to talk about my favorite paranormal show, The Dead Files.
( wickedhonor.com)
I spoke about them once before in this blog post. This is my favorite of all the paranormals because they not only provide answers, but they also provide solutions.
(courtesy of Amy Allan)
This is Amy Allan, she's a physical medium. She'll go to the location (with Matt Anderson in tow) and speak directly to the spirits and/or entities there. I give her props for going in and risk a beating from some of these baddies and talking to the friendlies just to help these families. Amy goes into every location blind. On the show, she says that the dead knows she's coming before she does. It's actually true. She prefers not knowing anything before hand, any piece of information may influence her part of the investigation. She even has Matt go in ahead of her to remove or cover all photographs, religious objects, or personal items. When Amy is done, she works with a sketch artist to draw who or what she has seen.
(Travel Channel)
I once asked Amy on Twitter if she doesn't know where she's going, how does she know what to pack. She said she just packs everything and upsets the airlines with all her luggage. LOL
(courtesy of Amy Allan)
One thing you should know about Amy...she'd better never hear of you provoking the dead for your amusement or any other reason. Things like seances and spirit boards really mess with the dead, not to mention you really don't know who (or what) you're really communicating with. Although, she is an extremely nice and fun person to chat with on Twitter.
(courtesy of Steve Di Schiavi)
This is Amy's partner, former Marine/NYPD detective Stephen Di Schiavi. According to most of the female fans I've talked to, he's the eye-candy of the show. ;)
(courtesy of Steve Di Schiavi)
Steve has devoted more than 21 years of active duty to the New York Police Dept as a homicide detective. He uses his experience and knowledge to interview clients, witnesses, law enforcement, local historians, etc. while doing his own research on the properties history to see if anything of note has happened there.
(courtesy of Steve Di Schiavi)
Steve really does his homework. Even if it doesn't sound like a whole lot of information, he holds on to it. He works hard to find out anything and everything about the property and the people who have lived there or have had ties to it. Steve also tries to get photos of the property and people.
(Pop Culture Addict)
After not communicating at all with each other during the investigation, they come together with the client at the end to reveal what they found out.
It's freakishly cool how both investigations line up almost perfectly spot on. Steve cracks me up with the faces he makes when Amy talks about her walks, because it's amazing on how accurate she is. This is the part where Amy reveals her sketch(es)... warning, some of these sketches can't be unseen (scary).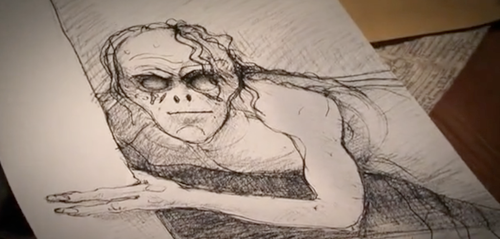 (Pop Culture Addict)
At this time, Steve asks Amy if it's safe for the clients to stay or leave. Amy almost never says to leave unless there's absolutely no other options. Usually, she has solutions on how to deal with the problem. This is what I love about this show, Amy tells you how to fight for your home and your family.
Dead Files Season 7 premieres on April 25. Here is my online countdown.
If you haven't seen the show, please do so. If you're not into paranormal stuff...too bad, watch it anyways. I want them to stay on for quite a while.
This show has help so many people beyond those personally who've been on Dead Files. Through just being able to watch, Dead Files has save my life and my relationship with my daughter. From watching Amy, I've learned to stand up to and kick out what was tormenting us for years. From Steve, I've learned that when I'm ready to move again...I'd better damn well do my homework BEFORE I move. Thank you, Dead Files.
And thank you to the entire crew at the Dead Files. If it wasn't for all of your hard work, there'd be no show to watch.
I asked some fans what they thought of the Dead Files:
"Best paranormal team ever."
"I love the ying/yang of these investigations. Amy feels it, and Steve gets the facts. Between them, we get the whole story."
"Awesome show with real people that need help by a great team."
"The Dead Files have a great team work from the detective and research standpoint and from medium connection to the ghost and spirits. It makes a great show. Never has there been a team like this going out mainly to help families in need."
My daughter (the artist) is even excited about the new season.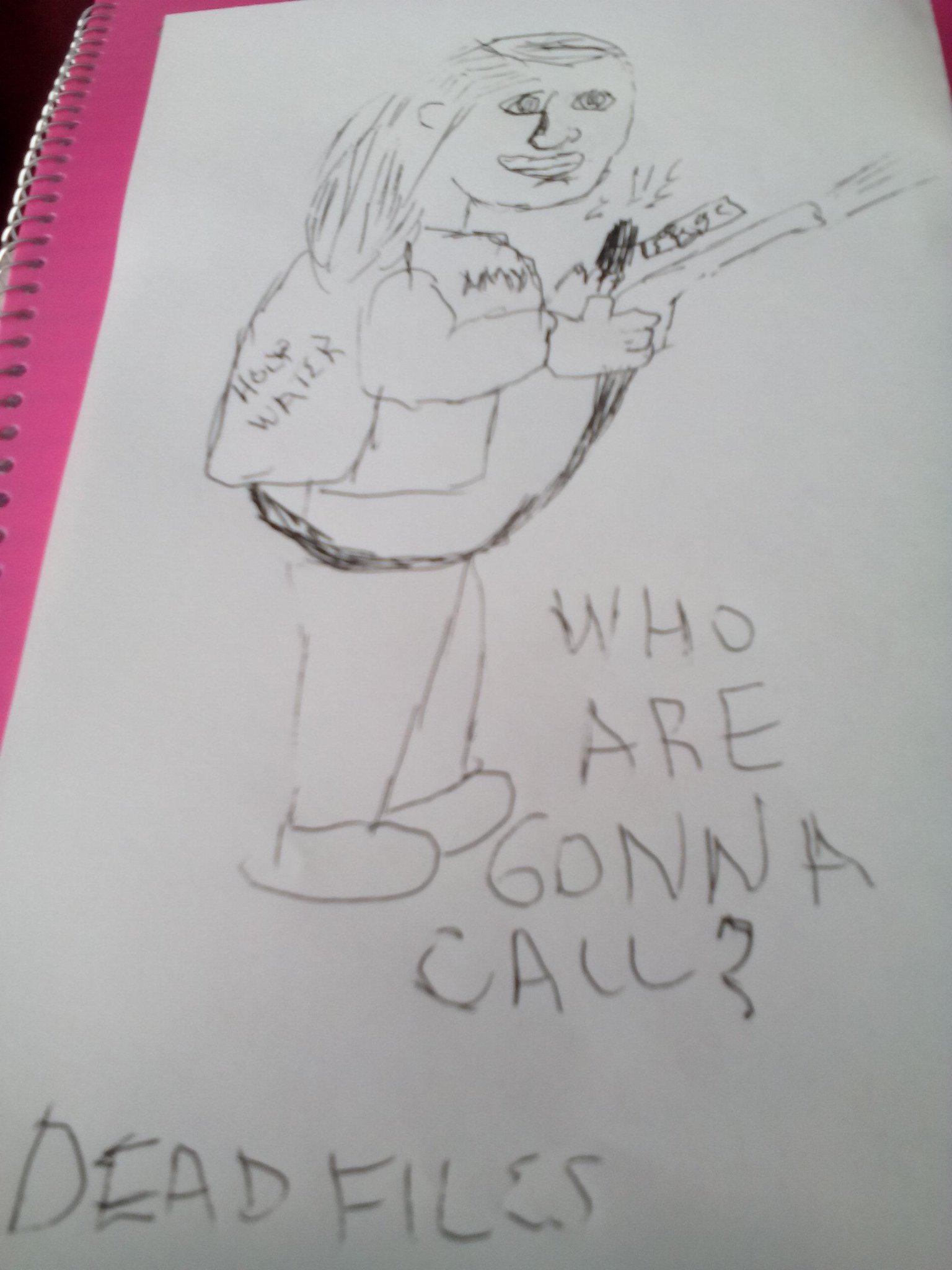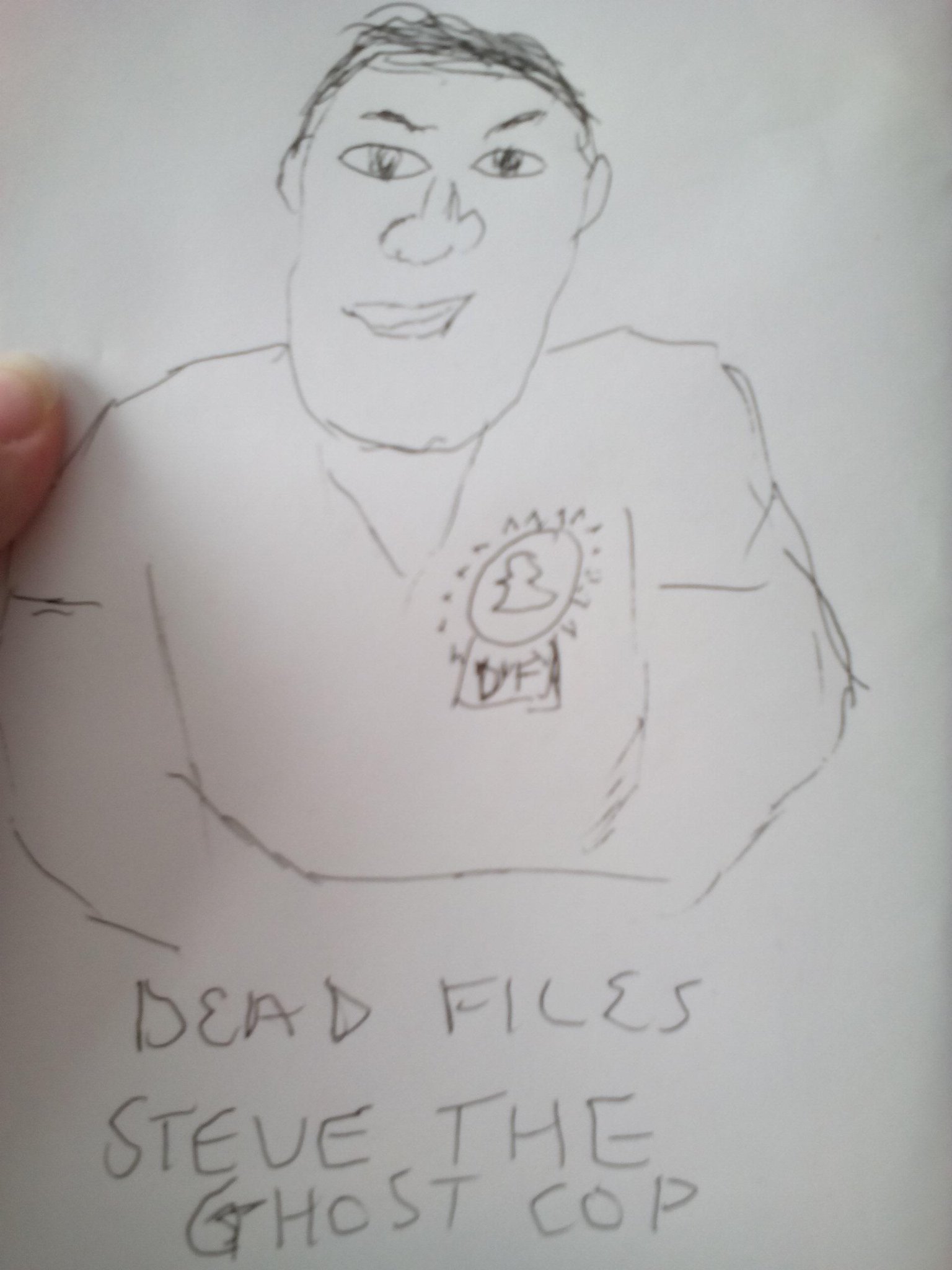 (courtesty of my daughter)
Please share this blog with anyone you might know who'd love this show as well. Thank you.
Found this comic strip, thought it was cute.